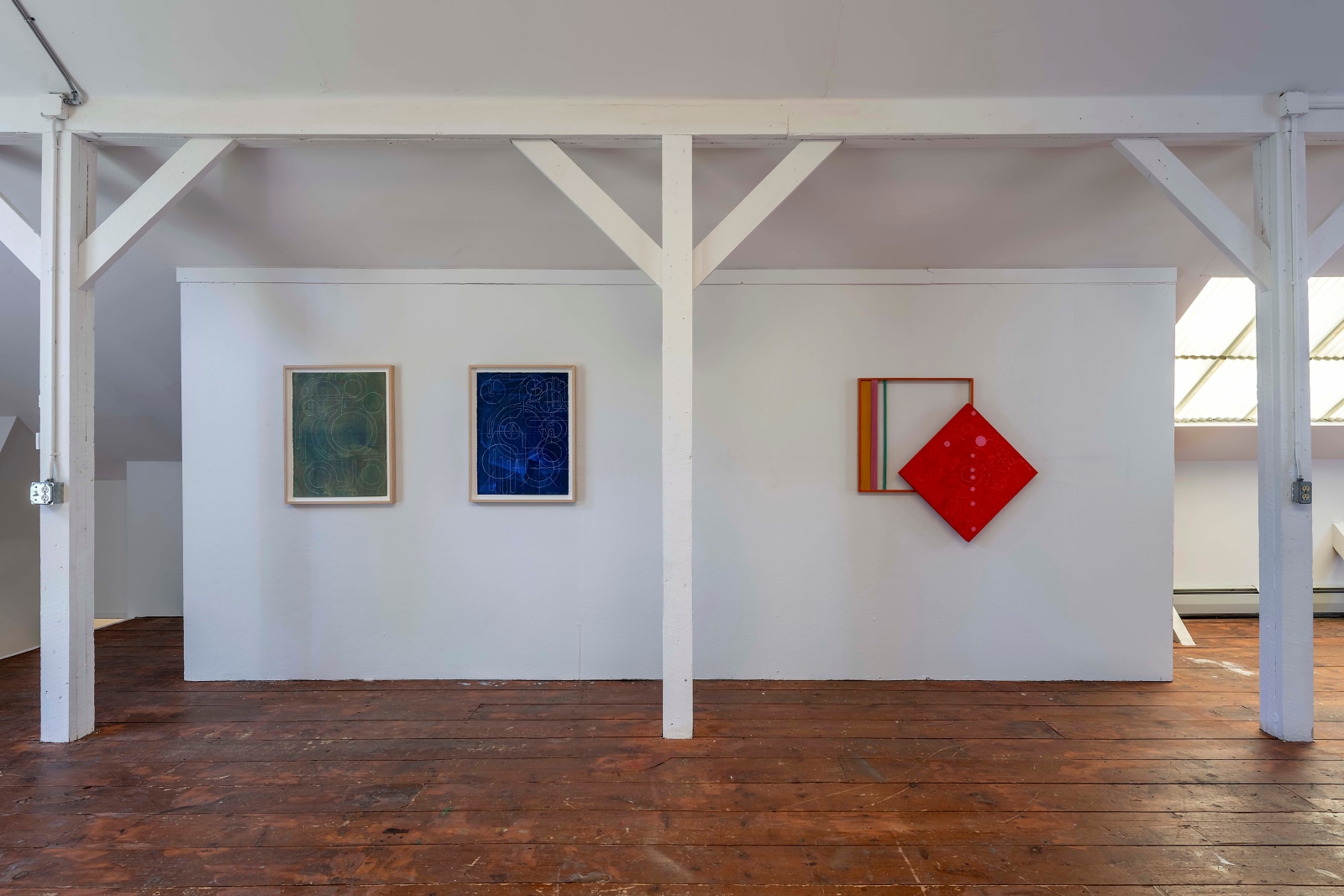 River Valley Arts Collective and the Al Held Foundation are pleased to announce Linear Dimensions, an exhibition of new work by Andrew Lyght in which the vibrant colors and fluid lines that define his practice appear on intricately crafted wooden structures and works on paper. Blurring the distinction between two-dimensional and three-dimensional mediums, Lyght's constructions resituate personal memories, Guyanese petroglyphs, and city layouts within an abstract pictorial space.

The works on paper begin with monochromatic washes of acrylic, mixed with one or more contrasting colors, shades, or tints. On top of the color-saturated surface, Lyght demarcates the corners of the composition and maps ratios between the paper's corners and edges with thin pencil lines. He then draws schemata of white circles floating across or emerging from curving tubular shapes. Rendered in continuous, graceful motion, the final image is labyrinthine and organic, like an esoteric diagram or the magnification of a complex microorganism.

Similar shapes appear on wooden wall-hangings, which reconstruct rectilinear painting conventions into more dynamic relationships between frames and the images that they enframe. In these works, a primary image panel sits obliquely over a multicolored frame that is in turn bisected with strips of painted wooden boards and rods. Lyght's careful delineations of the composition's parameters extend across both components, creating a unified effect despite the radical contrast. These frame structures also allow the composition to shift according to the angle from which they are seen. Like the architecture and city vistas that inspire the artist, the pieces acquire new depths and abstract configurations as the viewer moves through space.

Andrew Lyght (b. 1949, Georgetown, Guyana) has received awards from the Adolph and Esther Gottlieb Foundation in 2010 and the Barnett and Annalee Newman Foundation in 2004. He was an Artist-in-Residence at MoMA P.S. 1 during 1978-1980. His work was included in the 2010 Global Africa Project at the Museum of Arts and Design, New York. Andrew Lyght had a retrospective in 2016 at the Samuel Dorsky Museum of Art at the State University of New York, New Paltz. Other museum installations include Andrew Lyght: 3-D Paintings at the Nassau County Museum of Fine Art, Roslyn, New York in 1985 and Painting Structure at the Smith College Museum of Art, Northampton, Massachusetts in 1983. Lyght's work is included in prestigious collections including the Centre Pompidou, Paris; the Samuel Dorsky Museum of Art, New Paltz, New York; the Jewish Museum, New York; the World Bank Art Program, Washington, D.C.; the Studio Museum in Harlem, New York; and the Smith College Museum of Art, Northampton, Massachusetts.
Andrew Lyght: Linear Dimensions is curated by Sophie Landres and Candice Madey.
This exhibition is on view at the Al Held Foundation in Boiceville, NY. The Foundation is not open to the public, however guided private tours of the exhibition are available by appointment.