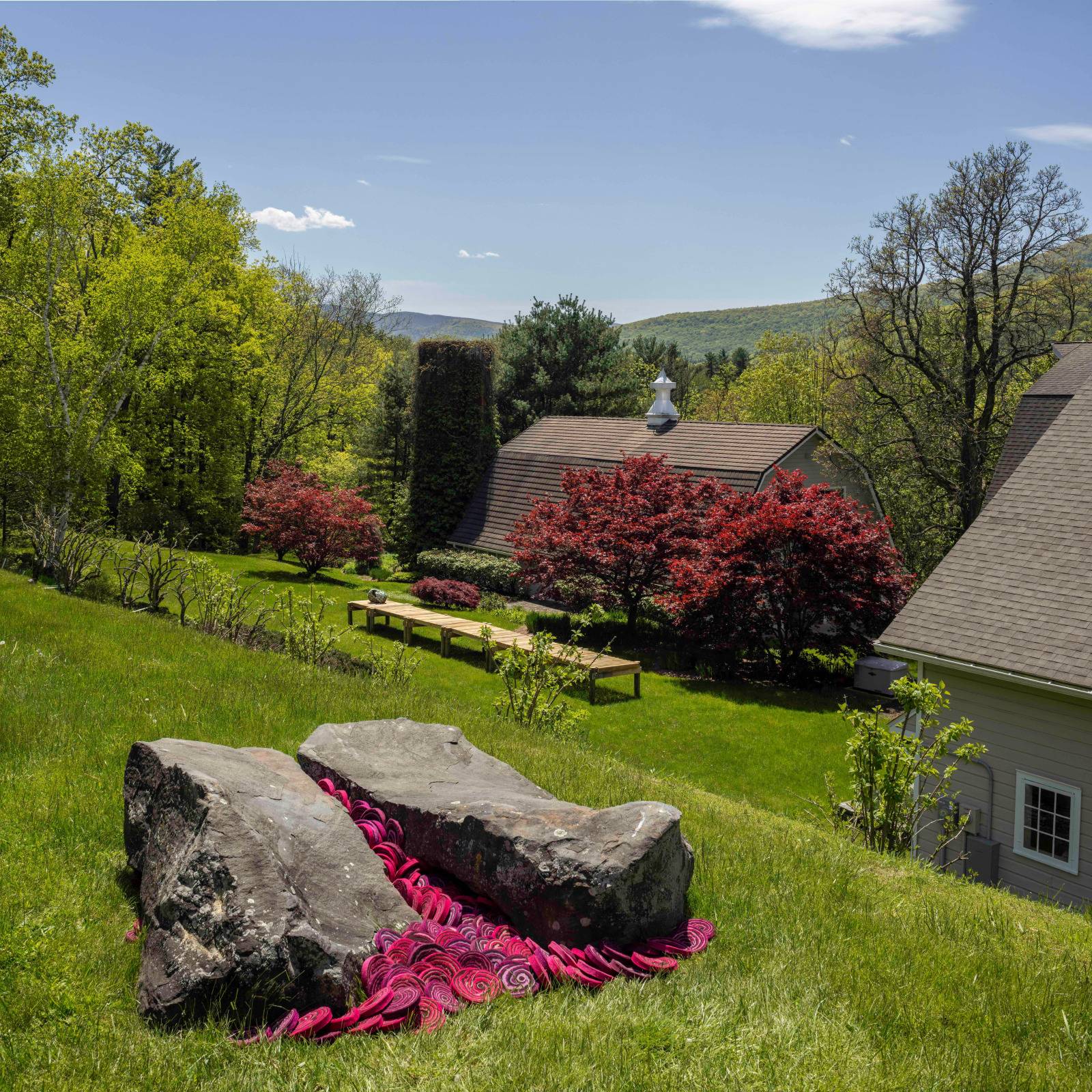 On the Grounds 2023 is the third in a series of outdoor installations in partnership with River Valley Arts Collective. This year's iteration presents the work of Anina Major and Sagarika Sundaram in the landscape surrounding Al Held's studio complex. Taking the idea of the home as a point of departure, each artist presents site-responsive works in clay, fiber, and wood. Sundaram brings her wet felted sculptures outdoors, using ethically sourced sheep wools from Cabbage Hill Farm in Mount Kisco, NY. After wandering the grounds, she identified several potential home sites for her organically formed soft sculptures that include a spiral motif often found in the natural environment. Major continues her ongoing investigation of the diasporic connection to home through her signature examination of the material histories of clay and fiber. She weaves waterway imagery throughout the landscape via re-deployed wood dock structures, ceramic vessels, and engagement with the site of Held's former swimming pool that is now a natural pond home to wildlife. This year's presentation is guest curated by Jess Wilcox.
Please CLICK HERE to schedule your visit.
Anina Major is a visual artist from the Bahamas. Her decision to establish a home contrary to the location in which she was born and raised motivates her to investigate the relationship between self and place as a site of negotiation. By utilizing the vernacular of craft to reclaim experiences and relocate displaced objects, her practice exists at the intersection of nostalgia and identity. She holds an MFA from Rhode Island School of Design and is the recipient of numerous awards and residencies, including the Socrates Sculpture Park Fellowship and serving as a mentor for the Saint Heron Ceramics Residency Program. Her work has been exhibited in The Bahamas, across the United States, and Europe and featured in permanent collections that include the National Gallery of The Bahamas, the Museum of Fine Arts, Boston, Los Angeles County Museum of Art, Rhode Island School of Design Museum and the National Museum of African American History and Culture. Her work is currently on view at the Brattleboro Museum and Art Center (Brattleboro, VT) through October 9, 2023. She has an upcoming solo show at Gaa Gallery in Cologne, Germany and a group exhibition with ArtsWestchester in Rochester, NY.
Sagarika Sundaram creates textile tapestry, sculpture and installation using raw natural fiber and dyes. The work observes and abstracts natural phenomena in the form of handmade textiles that generate power and presence. Sundaram has exhibited at the Moody Center for the Arts at Rice University, with Nature Morte gallery, Delhi, India and at Frestonian Gallery, London, UK. In 2023 she was a Jerome Hill Artist Finalist (Jerome Foundation). In 2022 she was awarded The Hopper Prize, a Bronx Museum AIM Fellowship and a residency at Art Omi. Sundaram graduated with an MFA in Textiles from Parsons / The New School, NY. She studied at the National Institute of Design, Ahmedabad and at MICA in Baltimore. She is Visiting Assistant Professor at Pratt and is in residence at Silver Arts Projects working out of a studio in 4 World Trade Center, New York. Sundaram's solo show at Palo Gallery (New York, NY) opens November 3, 2023.