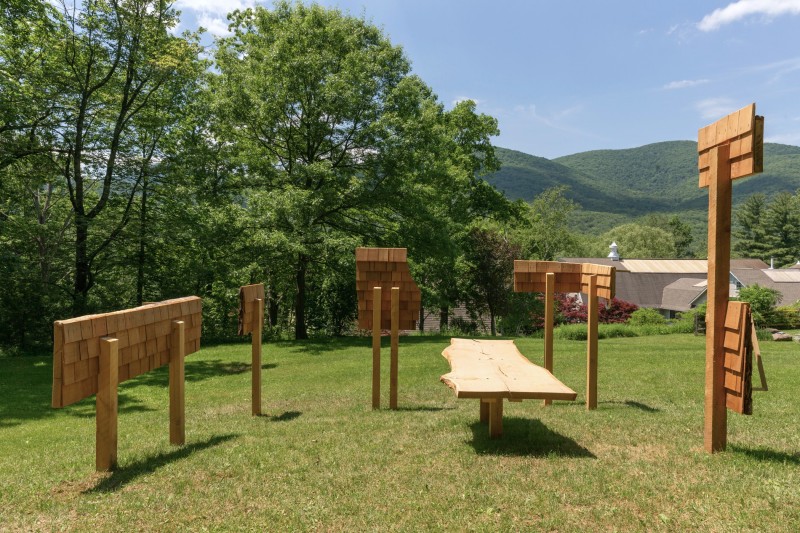 The Al Held Foundation is pleased to host On the Grounds, a new exhibition featuring outdoor sculptural work by Joy Curtis, Pam Lins, and Christina Tenaglia. Their work is situated on the scenic hillside overlooking Al Held's historic home and studio in the Catskill Mountains. The Foundation's first outdoor exhibition is organized by River Valley Arts Collective and curated by Alyson Baker, and is open to the public on select dates through October 10, 2021.

On the Grounds is an expansion of the ongoing collaboration between RVAC and the Foundation to provide artists with opportunities to create new work in dialogue with the architectural and topographic environment that Held created from 1965 until his death in 2005. For this project, Curtis, Lins, and Tenaglia have used the context of an artist's workspace to make new sculptures that are materially experimental, responsive to the location, and accepting of nature and the elements. This singular, intimate setting has allowed them to push the scale and scope of their practice.
Emerging from the woods at the edge of a field, Celestial Bodies (2021) is a textile and steel construction by Joy Curtis that stands over sixteen feet tall and moves with the winds that channel through the Catskills. Inspired by natural elements and origin stories, Curtis knits together earth and sky, with a long arc of colorful strung beads highlighting the liminal space between the two.

Puddles and Wedges (2021) by Pam Lins is an accumulation of 32 hand built ceramic "puddles"—ranging in diameter from 7 inches up to 16 inches—placed around the oval outline of Al Held's former swimming pool, now a wildlife pond. Supported on the uneven rocks by ceramic wedges, Lins's colorfully glazed plate-like objects feature a shallow basin at the center, which will collect rainwater and interact with the environment.

Christina Tenaglia's fragmented architectural form, Untitled (Can't hold onto it) (2021), cantilevers from a sloping hillside and features clay elements that cling to massive vertical slabs of oak. Partially inspired by the unexpected apertures within and between buildings on the Foundation's complex, Tenaglia inverts the location of typical domestic materials; cedar shakes line the inner walls and familiar but unidentifiable ceramic objects punctuate the exterior.