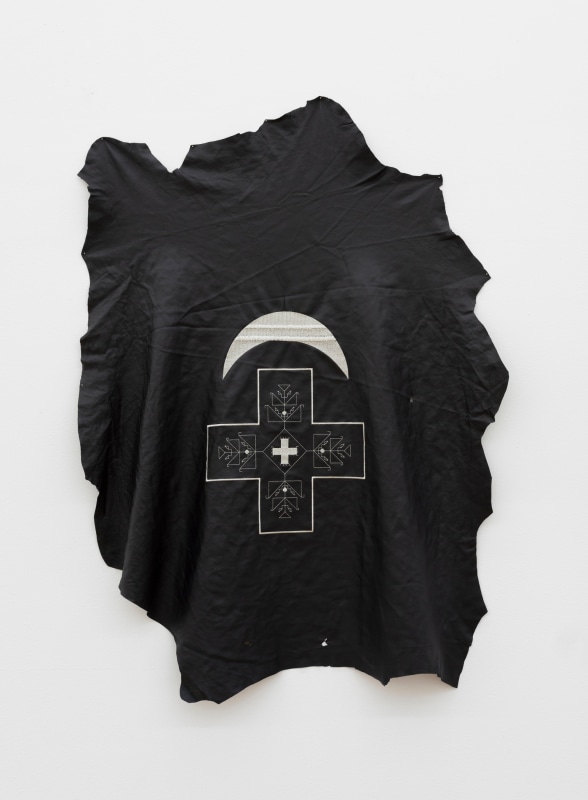 Oíhaŋbleta (In a Dream), is an exhibition of new, textile-based work by the Oglála Lakȟóta artist Kite (aka Suzanne Kite), presented in partnership with River Valley Arts Collective. It will include work created while the artist is in residence at STONELEAF RETREAT this spring. Kite approaches embroidery as a means of bringing knowledge from the nonhuman realms of machines, animals, and spirits into the human realms of creation. For this exhibition, she will create "tactile music scores" by embroidering leather hides with Lakȟóta geometries translated into a Lakȟóta visual language from her dreams. Each work draws on her doctoral research into the ethics of artificial intelligence (AI), Indigenous methodologies, and Lakȟóta ontology. The resulting series will include wall hangings as well as leather scores that cascade into floor installations. The exhibition is curated by RVAC Director and Curator Sophie Landres.
This exhibition is on view at the Al Held Foundation in Boiceville, NY. The Foundation is not open to the public, however, guided private tours of the exhibition are available by appointment. Please check back for tour dates and info.
Kite aka Suzanne Kite is an Oglála Lakȟóta performance artist, visual artist, and composer raised in Southern California, with a BFA from CalArts in music composition, and an MFA from Bard College's Milton Avery Graduate School. Kite's scholarship and practice investigate contemporary Lakota ontologies through research-creation, computational media, and performance. Recently, Kite has been developing a body interface for movement performances, carbon fiber sculptures, immersive video and sound installations, as well as co-running the experimental electronic imprint, Unheard Records. Kite has also published in several journals and magazines, including in The Journal of Design and Science (MIT Press), where the award winning article, "Making Kin with Machines," co-authored with Jason Lewis, Noelani Arista, and Archer Pechawis, was featured. Kite is currently a 2023 Creative Capital Award Winner, 2023 USA Fellow, and a 2022-2023 Creative Time Open Call artist with Alisha B. Wormsley. Kite is a Research Assistant for the Initiative for Indigenous Futures, and Artist in Residence and Visiting Scholar at Bard College.