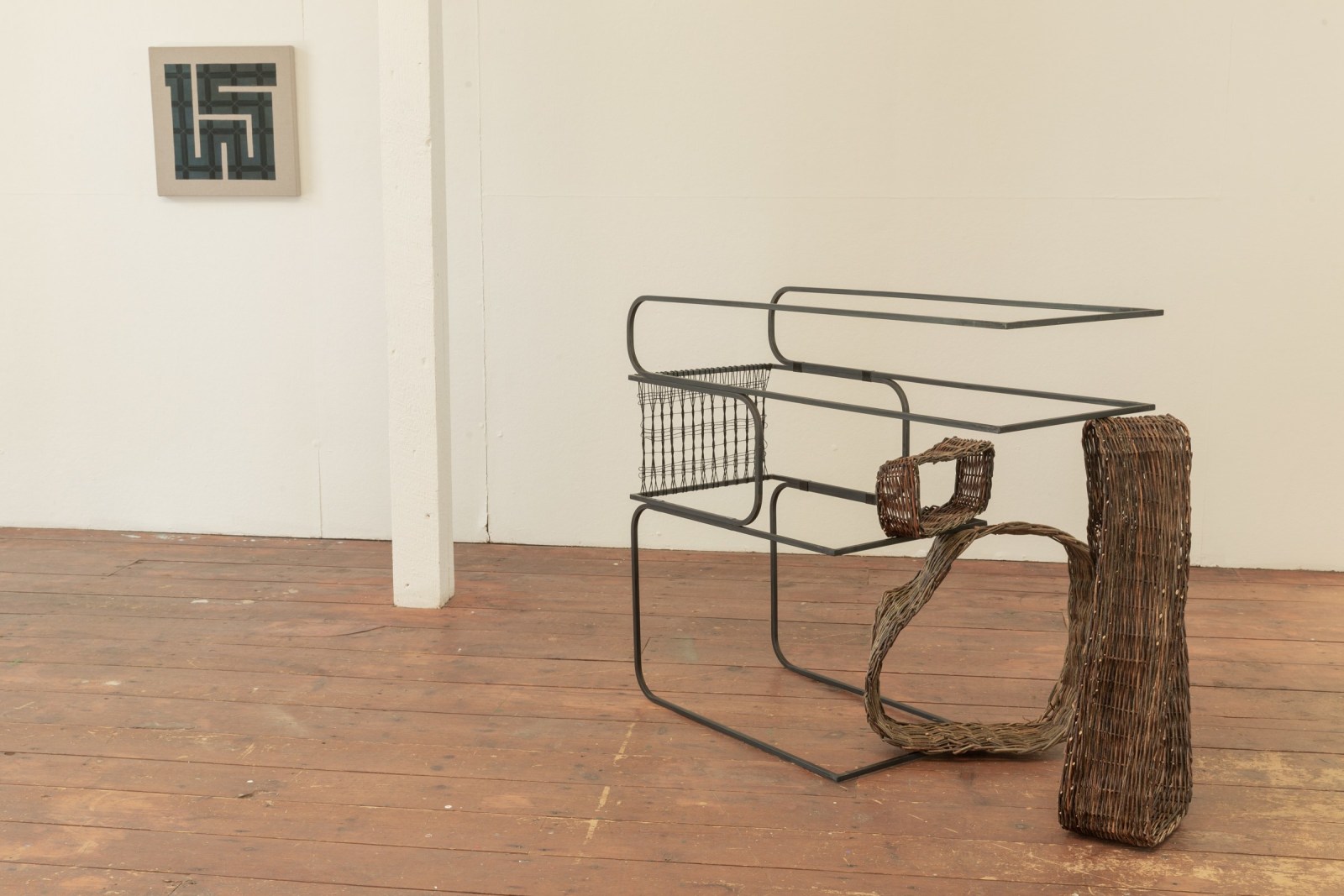 The Al Held Foundation is pleased to collaborate with River Valley Arts Collective to present Tension Bridge, an exhibition of new work by Beacon-based artist Laura Kaufman. Comprised of sculpture and embroidered paintings, this group of work features diverse media such as linen, willow sticks, wool, and steel. Curated by Candice Madey, the exhibition takes place in Al Held's former drawing studio in Boiceville, NY, from August 30 through October 18, 2020.

Tension Bridge marks a new era of public programs at the Al Held Foundation, which has never before hosted an exhibition of contemporary art. The Foundation has approximately 4,000 square feet of lofty, light-filled space across Al's two former studios, which we are looking forward to utilizing in new ways. Over the past few years, this space has been used for the final presentations of work by architectural fellows at 'T' Space and Onteora High School AP studio art students. Now, for the first time, the Foundation is pleased to begin exhibiting work by contemporary artists and opening the space to the public—albeit currently on a limited basis due to the pandemic. Follow us on Instagram to learn about upcoming exhibitions and future projects.

The work on view in Tension Bridge came to life in a makeshift home studio, against the highly unusual backdrop of the pandemic. Interviewed recently for a profile in the Highland Current, Kaufman reflects on making art during this time: "We are in this bridging-year between our pasts and our future—we all feel the turmoil, the sorrow. Weaving is a lot about controlling tension, and as we all went about our days trying to adapt to this blanket of sorrow, these steel forms are the bridge."

Kaufman, who earned an MFA at the Rhode Island School of Design, describes her work as referencing landscape, Minimalism, and weaving. An excerpt from the press release highlights the import of her materials: "The relationship between baskets and weaving, together with baskets' connection to local plants and the environment, was an inspiration for the new body of sculpture in Tension Bridge. Combined with steel armatures and found wood supports, woven shapes are transformed into works that create pattern and drawing in space."

The show's opening on Sunday, August 30, coincided with Upstate Art Weekend, a new program organized by Stoneleaf Retreat (based in nearby Kingston, NY) to provide locals and visitors alike with a two-day roster of exhibitions and art events across the region. We were delighted to be included in this new program, which generated a fresh wave of interest in the Foundation and forged new connections across our upstate arts community. We welcomed a limited number of guests for guided tours of Tension Bridge throughout the day.

Another round of guided tours will take place on Sunday, September 20, in conjunction with New York Textile Month. This annual month-long festival, designed to celebrate textile creativity, includes events hosted by the Met, MoMA, FIT, and Cooper Hewitt, among other NY-based institutions. RSVP required. Please email info@rvacollective.org.

A workshop in October will bring to life the processes of natural basket making utilized by Laura Kaufman; taught by basket weaver Katie Grove.
Download Press Release from River Valley Arts Collective about Tension Bridge