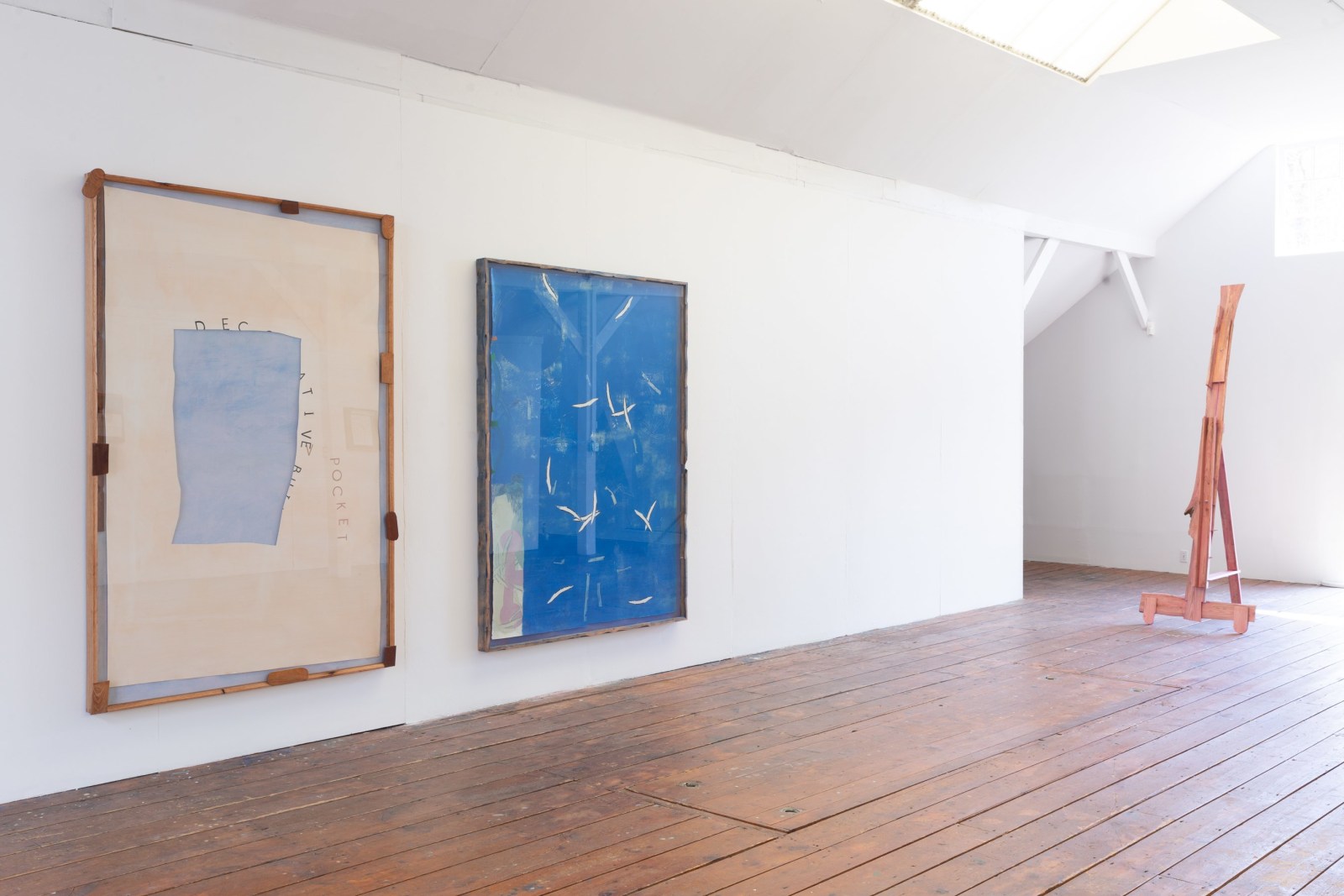 The Al Held Foundation is thrilled to continue its partnership with River Valley Arts Collective this year. With several dynamic collaborations planned for early summer into fall, we are pleased to launch the season with a solo exhibition by Chris Domenick. Presented in Al Held's former drawing studio, Song-shaped Sill is comprised of new mixed media work in which Domenick explores the utilitarian objects around which a painted gesture is made—the frame, the easel, the printer's matrix—directing the viewer's attention to the decisions and labor involved in artistic production. Curated by Candice Madey, the exhibition takes place in Boiceville, NY, from April 25 through June 6, 2021.

In preparing for this exhibition, Domenick was inspired by the site, specifically the unique architecture of the space—the lofted second story of a historic barn. He noted, "Having the opportunity to respond to the space is always a direction, or a way to frame the work. To think about the framing before the work is made is like a trick you get to play on yourself [...] and that is mimicked in the process I have in the studio in general." A relationship emerged between the history of the exhibition space, its particular construction details, and Domenick's interest in craftsmanship, image production, and woodworking. He works in a variety of materials, creating assemblages of monoprints, folded paper, leather, painted wood, and polymer clay. He brings in additional layers of meaning with linguistic play and multiple references in his titles.

Originally from Philadelphia, Domenick completed his MFA at Hunter College and has since shown in a number of solo and group exhibitions in museums and galleries around the Northeast, including Kate Werble Gallery, MASS MoCA, the Museum of Modern Art, and the Queens Museum. He has participated in a number of residencies, including The Shandaken Project, The Sharpe-Walentas Space Program, Skowhegan School of Painting and Sculpture, and Recess Activities.
Guided private tours of Song-shaped Sill are available on a limited basis, by appointment only. For those unable to visit the Foundation in person, we offer virtual tours. Please email info@alheldfoundation.org to inquire.